Lawmaker may have violated federal law with Met Gala appearance, House ethics office says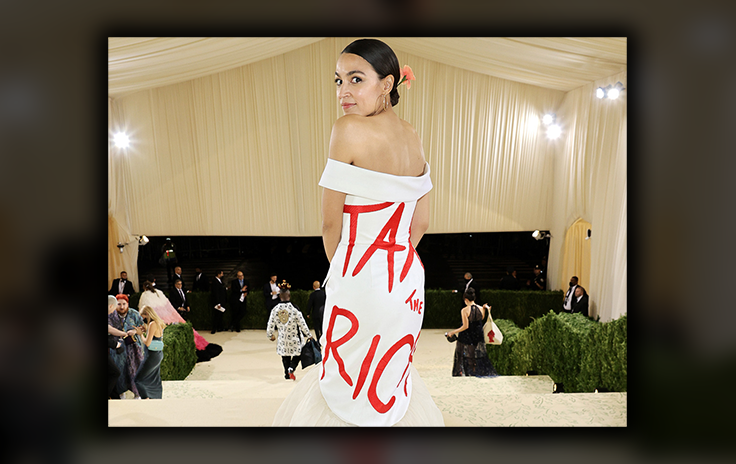 Rep. Alexandria Ocasio-Cortez stiffed the service workers who helped her steal the show at the 2021 Met Gala, a move which may have put her in violation of House ethics rules.
The Office of Congressional Ethics found the former bartender and workers' champion took months to repay the vendors who provided her with nearly $7,400 worth of gifts before the event, including her  infamous "Tax the Rich" dress, accessories, and styling services for the event, tickets to which were valued at $35,000 each.
Ocasio-Cortez only fulfilled her financial obligations after she faced a legal threat from one of her slighted vendors and was placed under investigation by the Office of Congressional Ethics. The office released a report Thursday finding "substantial reason to believe" that Ocasio-Cortez's delinquency puts her in violation of House ethics rules.
Ocasio-Cortez's hairstylist threatened to file a legal complaint with the New York City Office of Labor Policy and Standards for Workers after the lawmaker's team ignored the hairstylist's repeated attempts to collect on her $478 bill for the event. Ocasio-Cortez paid the bill on Feb. 24, 2022, one day after receiving the legal threat.
The New York lawmaker also stiffed her makeup artist, who made repeated attempts after the event to notify her staff that the $345 invoice was "EXTREMELY overdue." Ocasio-Cortez finally made payment for the service on March 16, 2022. She also repaid gown, handbag, jewelry, and shoe expenses of $991 on March 9, 2022, and her $5,580 transportation and room expenses on May 10, 2022.
Ocasio-Cortez didn't pay back all her debts until May 2022, nearly eight months after the Met Gala. Investigators say she may have never repaid her debts, had the Office of Congressional Ethics not launched its inquiry into the matter.
The Office of Congressional Ethics voted unanimously to escalate the matter to the House Ethics Committee, which has the authority to issue subpoenas and penalize rule breaking lawmakers. The House Ethics Committee revealed in December it had launched an investigation into Ocasio-Cortez, but did not disclose the nature of its inquiry.
Ocasio-Cortez acknowledged to investigators that "there was a ball that was dropped" and described her delinquency as "deeply regrettable," stated the report, which was prepared in June 2022 and released to the public on Thursday.
But in a letter to the chief counsel of the panel, Ocasio-Cortez's attorney insisted the matter  "definitely does not rise to the level of a violation of House Rules or of federal law."
The Foundation for Accountability and Civic Trust and the National Legal and Policy Center, two independent watchdog groups that filed ethics complaints against Ocasio-Cortez over her attendance at the Met Gala, hailed the Office of Congressional Ethics for its findings on Thursday.
"The gift rule is crystal clear and serves to deter outside actors from gaining influence over members of Congress," Foundation for Accountability and Civic Trust executive director Kendra Arnold said in a statement. "It is never ok for any Member to accept thousands of dollars of free designer clothes and services to attend an exclusive high society event—this obviously includes Rep. Ocasio-Cortez."