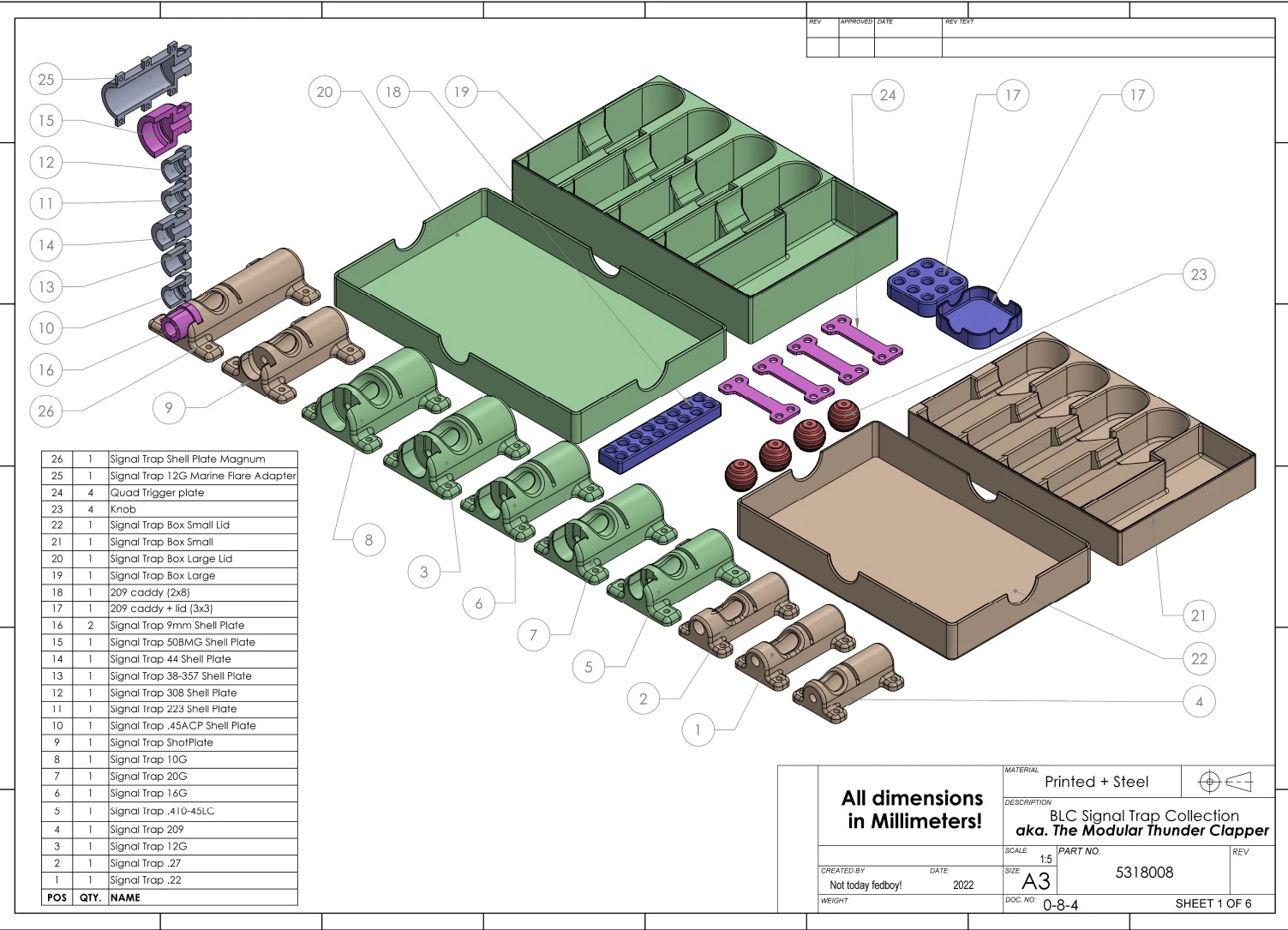 You want to be the first to know, right?
BLC Presents The Signal Device,
Because everyone deserves fair warning…
11/2022
Big shout-out to my dear Alfateers: @PsychicRhino, @madmanmike9966, @rojsimpson, @csprouts, @atomsk, @Bo' Rai Cho and @prints-charming. Thank you guys for all your efforts to make this release happen!
Special shout-out to @NeoAeon for the video + @BadCad, @Newton, @Bastedturkey, @Stubby and @ModeratorGage, for all your endearing support!
SAFETY INSTRUCTION: DO NOT USE ACTUAL AMMUNITION!! USE A CASE WITH PRIMER ONLY OR BLANKS. DO NOT USE ACTUAL AMMUNITION!! IF YOU DO, AND GET (SOMEONE) HURT, YOU ARE A FUCKWIT AND NOT MY RESPONSIBILITY.
Variants: 209 primer, .22 blank, .27 nailgun, 9mm, .45, .38/357, .44, .223, 308, .410/45LC, 20G, 16G, 12G, 10G, Signal flare(the orange CIL) ánd .50bmg
File pack includes storage cases, quad triggers and caddies for 209.
Tested in PLA. Should be fine too in PETG, ABS, PA, PC, etc as well.
Print in sturdy settings. Using a .4 nozzle; 3 or more perimiters/top/bottom layers, 50% infill or more. Other nozzles, other setings; you do you. Or Just print solid, they so small anyway!
Part list, assembly, printing notes and Signal Device setup notes on each respective drawing.
Check overview drawing for part names, find them in the assorted folders.
Mcmastercarr part numbers mentioned for reference; use anything suitable but dont make parts smaller/weaker then referenced.