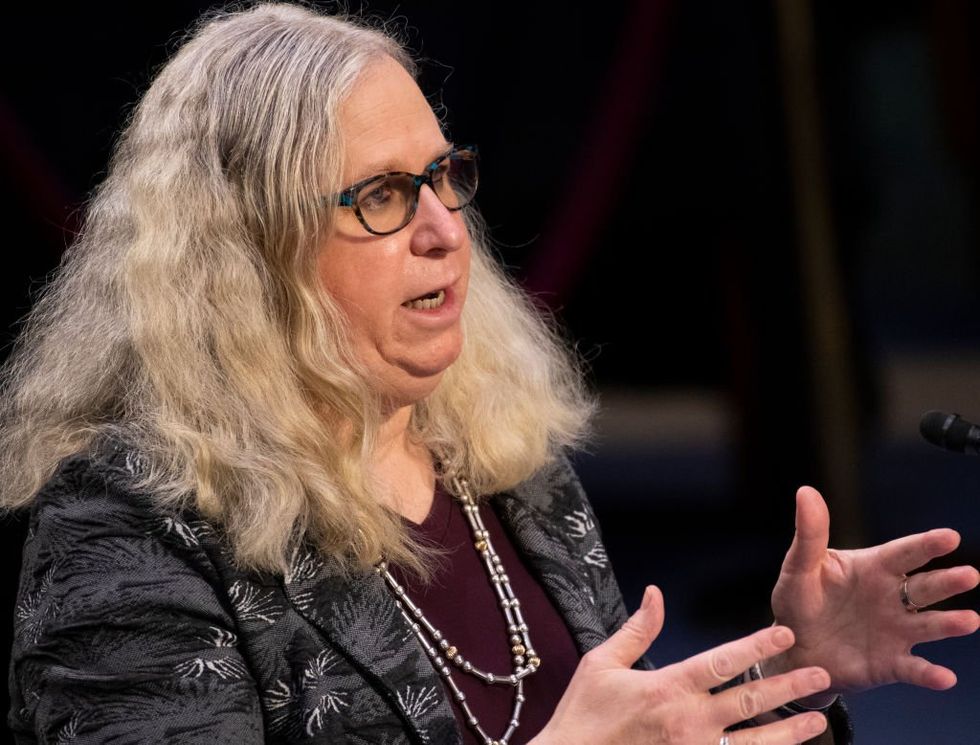 An upcoming installment in a children's book series about women will celebrate Rachel Levine.
As a transgender woman, Levine, who serves as assistant secretary for health for the U.S. Department of Health and Human Services and as head of the U.S. Public Health Service Commissioned Corps, is actually a biological man.
The children's book uses female pronouns to refer to Levine.
"And Rachel was born transgender, or trans for short. That means that she was born with a boy body, but on the inside, in her mind and in her heart, she was a girl," the book reads. "The first time that Rachel knew for sure that she was a trans girl was when she was five years old."
The book includes an introduction by Chelsea Clinton and is scheduled to be released later this year on June 6.
"Inspired by the #1 New York Times bestseller She Persisted by Chelsea Clinton and Alexandra Boiger comes a chapter book series about women who spoke up and rose up against the odds–including Rachel Levine!" a description declares. "As the first openly transgender government official to hold an office that requires Senate confirmation, the first openly transgender four-star officer in uniform service, and the first female four-star admiral in the commissioned corps, Rachel Levine faced many obstacles throughout her life. But she persisted through them all and showed kids of all genders that they can succeed in their dreams too."
"In this chapter book biography by critically acclaimed author Lisa Bunker, readers learn about the amazing life of Rachel Levine–and how she persisted," the description states. "Complete with an introduction from Chelsea Clinton, black-and-white illustrations throughout, and a list of ways that readers can follow in Rachel Levine's footsteps and make a difference! A perfect choice for kids who love learning and teachers who want to bring inspiring women into their curriculum."
Like Blaze News? Bypass the censors, sign up for our newsletters, and get stories like this direct to your inbox. Sign up here!