Comment comes as city Democrats push to lessen penalties for violent criminals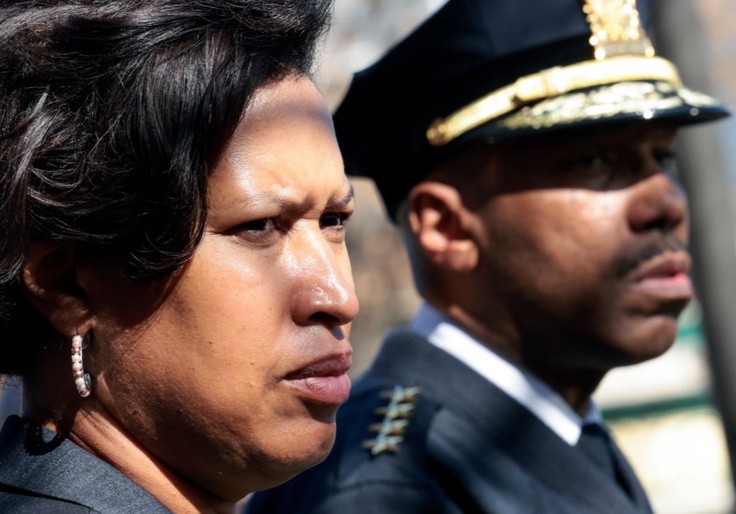 Facing a record spike in homicides, Washington, D.C.'s chief of police on Monday said the city needs to "keep violent people in jail."
"What we got to do, if we really want to see homicides go down, is keep bad guys with guns in jail," police chief Robert Contee said during a press conference alongside Mayor Muriel Bowser (D.). "Because when they're in jail, they can't be in communities shooting people."
Contee's comments come as the left-wing Democratic city council backpedals on a proposed criminal code reform that would reduce penalties and in many cases eliminate minimum penalties for violent crimes. D.C. Council chairman Phil Mendelson (D.) on Monday revoked the bill after President Joe Biden announced he would not veto a Republican-backed resolution to block the city's bill. Mendelson tried to retract it before the Senate could hold a vote. Republican senator Bill Hagerty (Tenn.), however, said that it was too late to avoid a Senate vote.
"No matter how hard they try, the Council cannot avoid accountability for passing this disastrous, dangerous D.C. soft-on-crime bill that will make residents and visitors less safe," Hagerty said.
Many House Democrats expressed frustration with Biden's decision to veto the city's criminal code reform.
"People are rip roarin' pissed," one House Democrat told Axios.
Shootings and homicides have surged in D.C. in recent years: 2019 saw 135 fatal and 557 non-fatal shootings, which rose in 2022 to 174 and 710, respectively.