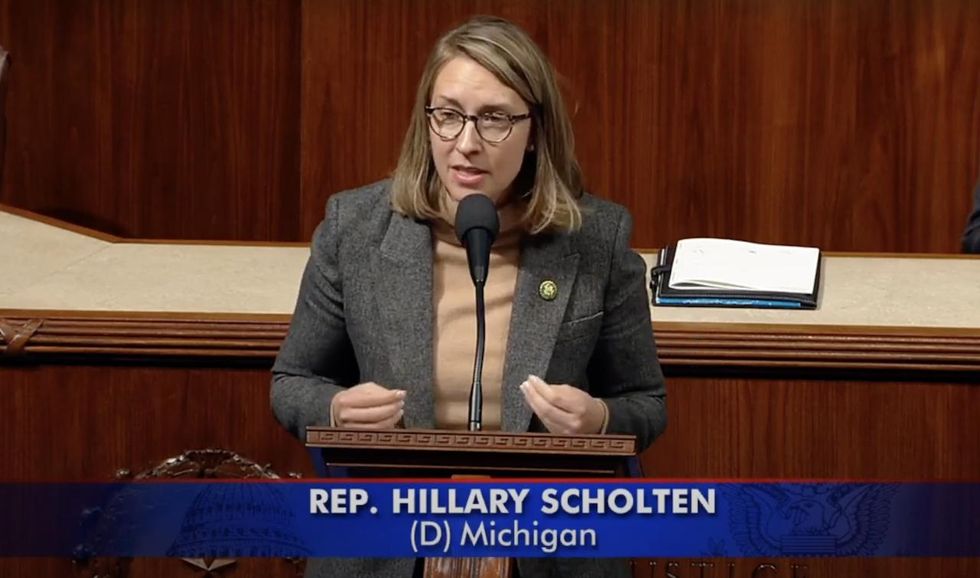 Hillary Scholten — a Democrat U.S. representative who calls herself a "pro-choice Christian" — earlier this week used a Bible verse to speak out against the Born-Alive bill that would require medical care for babies who survive abortions.
Scholten — a freshman congresswoman from Michigan — told fellow House members that she went through a "complex miscarriage" in which she lost a daughter.
Here's what else Scholten said:
"As a pro-choice Christian who chose life, this issue is so personal to me. My faith informs my actions, but it doesn't dictate the policy of an entire nation. And further, when I read the Scripture … I'm guided by passages like Jeremiah 1:5 which states, 'I knew you before I formed you, and I placed you in your mother's womb.' It doesn't say the government's womb or the speaker's womb. It says the mother's womb. I believe life is precious, but I reject the idea that if I embrace the sanctity of life, I also must be forced to invite the federal government in to regulate it. We must protect families from unnecessary government intrusion into the most sacred and personal decisions of our lives and our children's lives."
Scholten Speaks Against Born-Alive Abortion Survivors Protection Actyoutu.be
Michael New, an associate scholar at the pro-life research organization Charlotte Lozier Institute, told the Christian Post that it's odd Scholten used the Jeremiah verse, as Christians typically cite it "to make theological or scriptural arguments in favor of legal protections for preborn children."
New added to the outlet that in regard to the Born-Alive bill "regardless of one's faith tradition or one's stance on abortion, protecting infants is something that everyone should enthusiastically support."
The Born-Alive Abortion Survivors Protection Act passed the Republican-majority chamber Wednesday by a vote of 220-210, with all Democrats save for Rep. Henry Cuellar (Texas) voting against it.
With a Democrat majority in the Senate, it would seem the bill faces an uphill battle there. Democrat Vice President Kamala Harris — who casts the deciding vote in the Senate in the event of a tie — lashed out against the passage of the bill in a tweet: "House Republicans passed an extreme bill today that will further jeopardize the right to reproductive health care in our country. This is yet another attempt by Republican legislators to control women's bodies."
What else do we know about Scholten?
Readers of TheBlaze may recall a story last September about Scholten's campaign ad showing her son wearing duct-taped sandals and an in-window air conditioner turned off since "times are tough" — even though in 2021 she reportedly earned more than $200,000.
The Scholten ad shows her with her family, presumably in their home, with visual signs that inflation has hit them like everybody else: "And like most Michigan families, we're making do with less and making things last longer."
The Washington Free Beacon said Scholten earned more than $200,000 in 2021 as an immigration attorney for a Grand Rapids-area law firm, based on a review of her financial disclosure forms. What's more, the outlet added that her family's total income likely was far more since Scholten's husband received consulting fees from two nonprofits while earning a salary as a professor at a local university.
The Free Beacon said Scholten did not respond to a request for comment.
Here's that ad:
Toughyoutu.be
Like Blaze News? Bypass the censors, sign up for our newsletters, and get stories like this direct to your inbox. Sign up here!