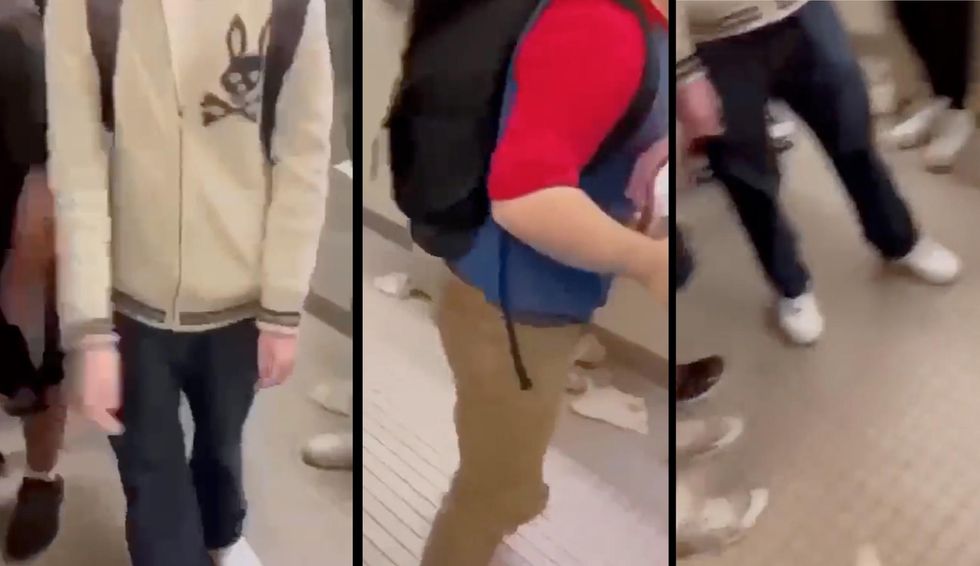 A very disturbing video showed high school boys reportedly bullying a student with Down syndrome, and parents in the district are outraged.
The video was made at York High School in Elmhurst, Illinois.
It shows a large group of about 10 teenage boys in a bathroom laughing as one pushes a boy down to the ground. He appears to run into a bathroom stall as they laugh and yell in the short video.
Chicago radio host Dan Proft obtained the video and posted it to Twitter in order to raise awareness so that school officials are unable to downplay the incident.
"Expect the school district to quickly erect a wall of silence and hide behind their lawyers' arguments about the privacy of the assailants," Proft added. "It's almost always protect the system at the expense of the victim with these union-run, government school systems."
Mary Olivia Muti, a student, claimed in a petition she posted online that there had been numerous similar instances, but she did not provide evidence for her accusations.
On Friday, Principal Shahe Bagdasarian sent a mass email to parents and described the incident as a "student pushing another student."
On Sunday, Elmhurst School District 205 Superintendent Keisha Campbell sent a second mass email to parents claiming that the students who participated in the incident had been disciplined.
"The video showed an aggressive physical altercation by a student toward another student with a disability, while a group of bystanders watched and laughed," Campbell wrote. "Throughout the day on Friday, students involved in the situation were interviewed and significant school consequences were issued."
Campbell said that the Elmhurst Police Department's resource officers had contacted the parents of the victim.
"We are deeply disappointed and saddened by the actions of this small group of students," Campbell added. "Bullying, intimidation, and harassment diminish a student's ability to learn and a school's ability to educate. Such behaviors are not tolerated, and any student who chooses to engage in these behaviors will face the appropriate consequences."
On Monday, Proft tweeted that the students had been suspended.
"In the York HS case of the Down syndrome boy who was attacked, I'm hearing all the assailants have been suspended and main perpetrator is gone from York for good," Proft said.
"'He transferred.' Not good enough," he added, saying he would continue to pursue the story on his show.
He offered his own solution to the incident.
"Everyone knows or will know who these boys are," he tweeted. "It's real simple: parents/peers, tell them to come forward, own what they did, apologize to the kid they abused, take their punishment. You know, learn to be men."