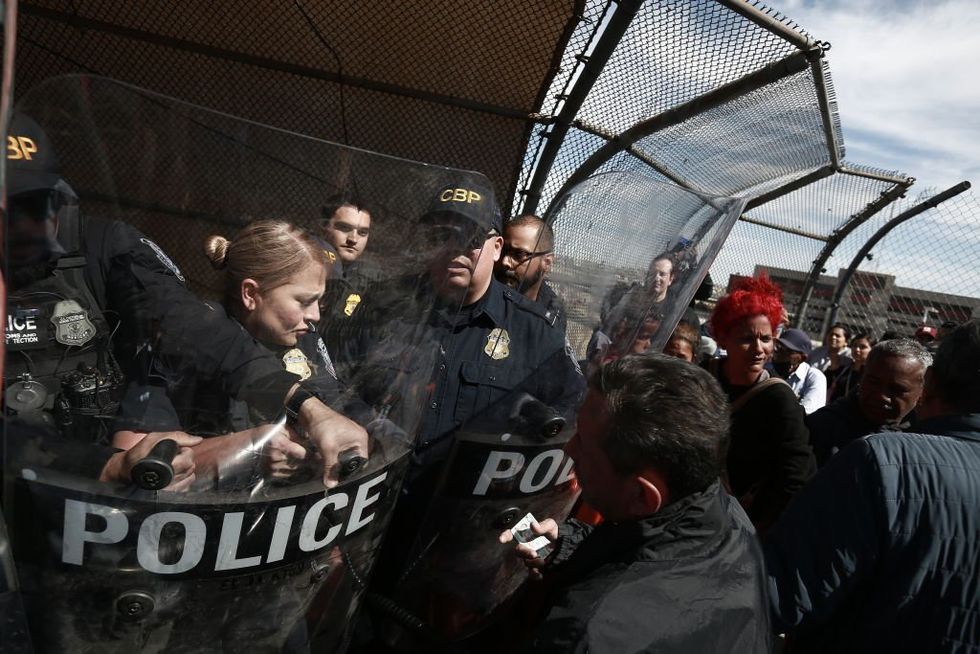 Mexican drug cartels likely caused the migrant rush in El Paso over the weekend to distract U.S. Customs and Border Protection, according to experts, the New York Post reported.
On Sunday afternoon, a surge of approximately 1,000 migrants stormed the international bridge from Juarez, Mexico, to El Paso, Texas. The migrants, who were predominantly Venezuelan, pleaded with CBP officials to allow them into the U.S. as they crowded the border, shouting, "We want entry!"
Law enforcement officials held back the desperate crowd with concrete barriers, barbed wire, and a team of officers in riot gear.
The frenzy was believed to be catalyzed by a false online rumor shared through migrant group chats that claimed CBP officials would allow migrants with extreme circumstances or with children to enter the United States.
"If you're at the border, go this morning," the rumor stated, according to a screenshot of the social media correspondence obtained by the Post. "Don't miss this opportunity."
Former Border Patrol chief Thaddeus Cleveland stated that he believes the online rumor was created by the Mexican drug cartels and likely meant to act as a diversion that would clog federal law enforcement resources.
"Heck, it wouldn't take much, as we saw yesterday, to get [migrants] spooled up and thinking that they are going to have the possibility to enter [the U.S.]," Cleveland stated.
"You can stir up something over here at [the El Paso bridge] and then allow something bigger to go through somewhere else," Cleveland added. "With something that large, it's going to take all hands on deck. 'Cause a little confusion over here and get some stuff through over there.'"
Crystal Sandoval of Las Americas Immigrant Advocacy Center in El Paso agreed with Cleveland that the cartels are likely to blame for Sunday's chaos.
"No doubt the cartels are involved," Sandoval said. "But everyone is taking advantage of the most vulnerable."
"A lot of the folks that are waiting in Juarez are very desperate, and they'll believe anything," she explained.
Sandoval placed some of the blame on the Biden administration for failing to provide a clearer and safer path for migrants seeking asylum.
"There's a lot of people interested in what happens on the border, but not a lot of solutions," she added.
Like Blaze News? Bypass the censors, sign up for our newsletters, and get stories like this direct to your inbox. Sign up here!