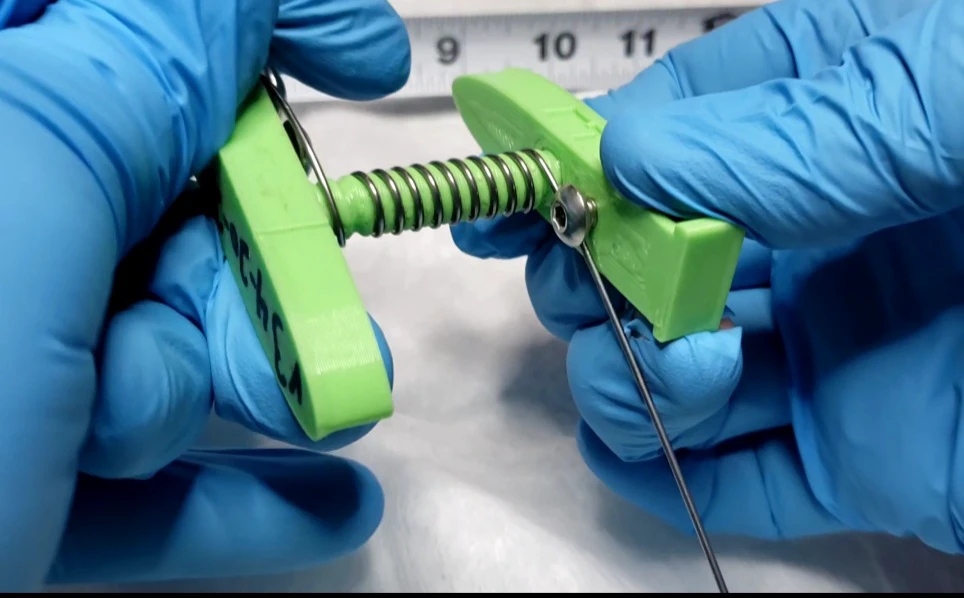 Project Name : Harlot Hammer Spring Factory
Project Developer : PsychicRhino
Group Affiliation : Black Lotus Coalition
Beta Test Launch Date: 04.08.2022
Beta Test Close Date : 05.01.2022
Purpose of Project:
The developer noted that a problem when completing his own 1st Harlot build, was that there was some issue with light strikes on the cartridge rim. One of the issues seemed to be the spring was a little light. There was some difficulty finding a suitable drop in commercial spring. This jig is developed with the builder in mind that has minimal experience with power tools and or minimal access to their use.
Design Inspiration:
This design is a direct evolution of the Spring Maker v1.2 on Thingiverse, uploaded by vbaillet December 22, 2021. The original design was all PLA and too small and short to make a suitable spring for this application. The HHSF involved extensive testing to optimize the x, y, and z axis of the original along with the addition of the more wear resistant bolts which greatly prolong the life, and ease of use.
Materials Required:
The developer utilized eSun PLA+ for protyping this design printed at 99% infill. Basic PLA is not suitable. In testing it was noted that one HHSF was capable of producing springs for 76 Harlot builds before destruction.
PLA+ 23g.
3 – m5x12mm screw – this will be a set screw and could be any type of head/coating – est $0.25 USD
Estimated Cost of Materials:
including filament for build – $0.75 USD
The cost of the wire as tested is not included in the cost of the tooling but one source is provided here for the convenience of the reader. https://www.mcmaster.com/9666K33/ this is 1 lb or 185 ft of 0.045 in diameter music wire is priced at $12.07. This one roll would produce 138 Harlot springs at a cost of 8.7 cents in USD/per spring. And if you are able to produce 75 springs from one 75 cent HHSF then it would bring your total cost per spring, including the tooling to appx. 9.7 cents/per spring.
Print Recommendations:
Print with 6 walls and 99% infill.
Assembly and Use:
Place the thread turning knob down upon spindle. In the base you will insert and tighten two m5x12mm bolts until they are flush with the bottom of the base. The bolt heads should remain proud appx 2mm to allow spring wire to hook under the heads and around the bolt stem. The 3rd bolt will thread into the turning knob with the head oriented downward at similar depth. This will function as the bearing surface for the wire as you rotate the knob.
The HHSF was tested with various Spring Steel/ Piano-Music Wire. It was noted that no. 20 piano wire ( 1.15 mm O.D.) when cut to a lenght of 16 inches resulted in an excellent Harolot spring when trimmed to appx. 45mm (+/-2mm) long. A satisfactory spring is likely possible with spring steel in the 1-1.15mm od range. To start, you bend a small hook in the wire and place it under the head of one of the bolts in the base. If you have trouble with rention you may use one bolt to hook to and the other to bend around. You then place the wire under the turning knob bolt and, while holding constant tension ( because if you do not, you will allow the wire to skip threads and form irregular coils) you turn the base while holding the knob stationary. You continue to turn until you have half an inch left. You then remove the knob, unhook from the base, and unthread the spring from the spindle. Cut to length with heavy duty wire cutters.
Test for fit and function. You can always trim down if it is a little too long/ stiff but you can never trim up!
I want to thank the BETA testers: Madmanmike9966, GM Fan/ Tom M, Halio1984, csprouts for your valuable participation in the project as well as the developer MadMax who held my hand throughout my 1st beta, and Moderator Gage for the support he afforded throughout. I also want to thank BAD_CAD for drafting a simple and effective firearm for me to print, and experiment upon. Lastly, I want to thank all of those at BLC who provided advising and support.
PsychicRhino.