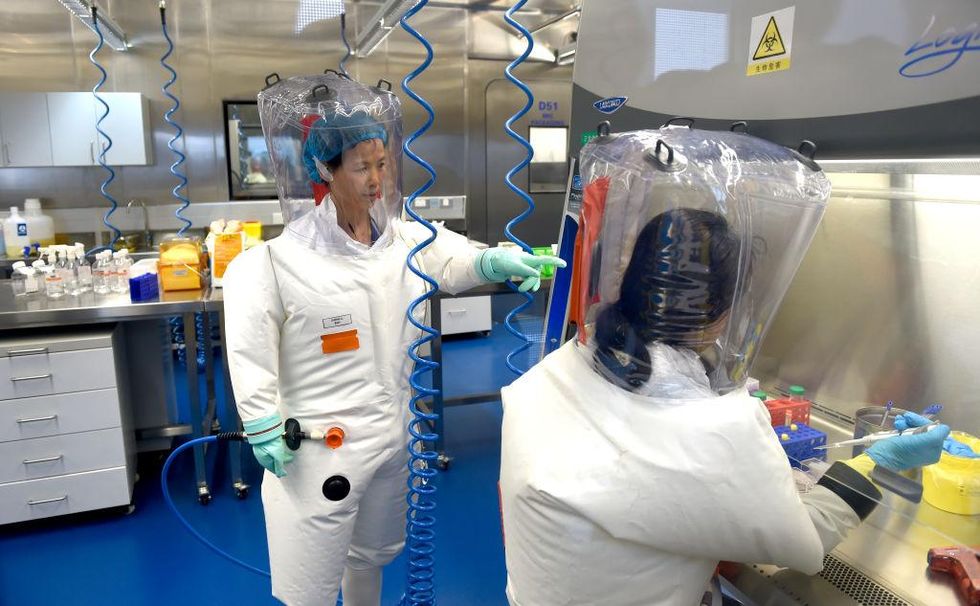 The National Institutes of Health, directed by Francis Collins until December 2021, has long provided federal funds to the EcoHealth Alliance run by British zoologist Peter Daszak.
EcoHealth has, in turn, used grant money to fund dangerous gain-of-function research — executed in part by foreign entities — on coronaviruses at the Wuhan Institute of Virology, possibly the epicenter of the pandemic that has claimed tens of millions of lives worldwide.
According to a damning new report from the HHS Office of Inspector General, the NIH knew about potential risks associated with the research being performed in China that had been executed using federal grant money funneled to and through EHA.
Despite this knowledge, it "did not effectively monitor or take timely action to address EcoHealth's compliance with some requirements."
The Daily Mail reported that the National Institute of Allergy and Infectious Diseases, helmed by Anthony Fauci until 2022, was the NIH branch responsible for monitoring this research.
The OIG report further suggested that while procedures were in place to monitor the dangerous work underway and to ensure adherence to requirements, they proved wanting, owing to deficiencies in compliance.
Both the NIH and EcoHealth are said to have flouted federal requirements, directly and/or by extension of their subawards.
For instance, the NIH asked EHA on Nov. 5, 2021, to provide scientific documentation pertaining to experiments performed in Wuhan. The OIG indicated that it did not encounter evidence that EHA ever obtained that information. EHA officials reportedly confirmed the Wuhan lab had proven unresponsive to its request for data.
The NIH also reportedly failed to refer the dangerous research to the U.S. Department of Health and Human Services for an outside review concerning enhanced potential pandemic pathogens because it determined the research did not involve and was unlikely to set off a pandemic.
Among the other deficiencies the OIG report noted were the NIH's improper termination of a grant and "EcoHealth's improper use of grant funds, resulting in $89,171 in unallowable costs."
These deficiencies "limited NIH and EcoHealth's ability to effectively monitor Federal grant awards and subawards to understand the nature of the research conducted, identify potential problem areas, and take corrective action."
"With improved oversight, NIH may have been able to take more timely corrective actions to mitigate the inherent risks associated with this type of research," the report concluded.
Dr. Richard Ebright, a biologist at Rutgers University, told the Daily Mail, "These conclusions demonstrate major failures in past NIH oversight of high-risk research on enhanced potential pandemic pathogens and underscore the need for both accountability for failures in past NIH oversight and strengthening of future NIH oversight."
The EHA issued a statement in response to the report, contending that the NIH, facing "significant political pressure … retroactively alleged that our work was not in compliance," and that the nonprofit is "fully committed to responsible research with enhanced potential pandemic pathogens and follows all applicable U.S. policy frameworks and rules regarding such research."
Republicans lawmakers have repeatedly highlighted EHA's "lengthy history of reporting failures and collaboration with the Wuhan Institute of Virology (WIV)," noting that the WIV "is a Chinese Communist Party (CCP) laboratory and the likely origin of the COVID-19 pandemic."
Daszak previously called NIH requests that U.S. federal officials inspect the WIV "heinous," and derided suggestions that the virus might have leaked from the WIV — to which his organization had directed a significant amount of taxpayer funds — as "conspiracy theories."
Despite questions about its compliance and its deficiencies, EcoHealth nevertheless secured funding to the tune of millions of dollars last month from the Department of Defense.
"Despite [EcoHealth] possibly having caused the COVID-19 pandemic, and despite definitely having repeatedly and gravely violated terms of a US-government grant, currently has 12 active US-government grants and contracts, totaling more than $34 million," Dr. Ebright said of EHA's continued funding at taxpayers' expense.
Like Blaze News? Bypass the censors, sign up for our newsletters, and get stories like this direct to your inbox. Sign up here!