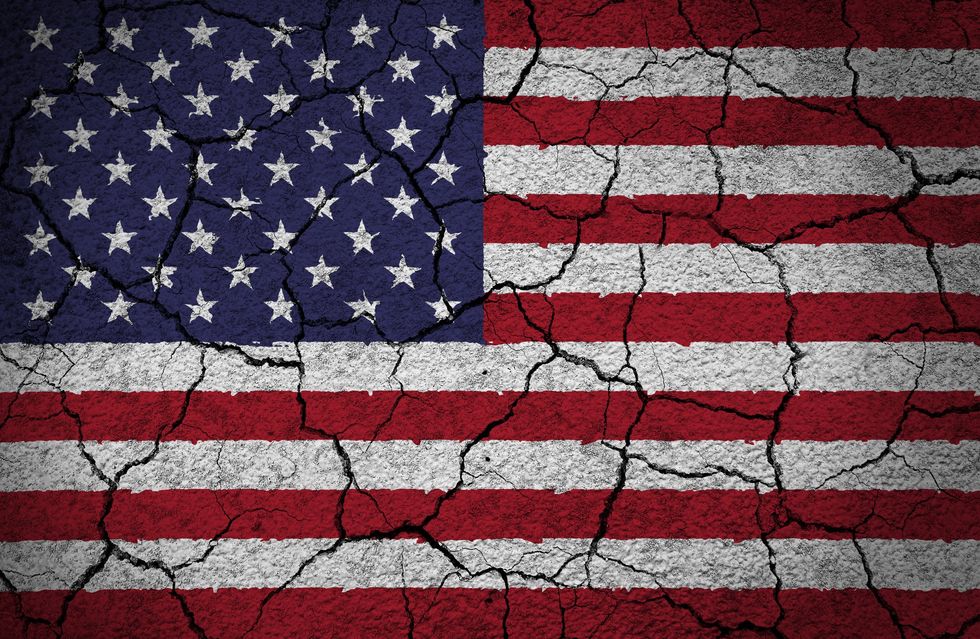 As family structure declines in America, divorce has skyrocketed. Although divorce is very undesirable, there are times when it's necessary. At that point, the objective is to forge a separation plan as amicably as possible. After all, divorce is mentioned in the Bible itself. Sure, the wife might still keep the surname and the two divorcing will share custody of the children and inevitably interact with each other regarding both the children and shared assets, but sometimes the most advisable thing to do is to limit the exposure you have in a toxic relationship. Metaphorically, this is exactly where we are in the country politically today between the right and left. The problem is that one side already gets it, while the other side is still hoping to work things out.
On Monday, Rep. Marjorie Taylor Greene once again created a national firestorm over her assertion that it's time for a national divorce. "We need a national divorce," she declared on Twitter. "We need to separate by red states and blue states and shrink the federal government. Everyone I talk to says this. From the sick and disgusting woke culture issues shoved down our throats to the Democrat's traitorous America Last policies, we are done."
Inevitably, this sentiment received backlash from the left, but got an even more emphatic response from the well-fed "Con Inc." and establishment Republican politicians who waxed poetic invoking Reagan and the false, outdated optimism of somehow coming together. Liz Cheney decried it as unconstitutional, and Utah Gov. Spencer Cox even called it "evil." Why the visceral reaction if it's such a far-fetched, puerile idea?
There's a reason why only people like Marjorie Taylor Greene on the right, and not her counterparts on the far left, are calling for a national divorce. That's because we already have a national divorce in blue states, from the left's perspective. Progressive leftists are perfectly content with the way things are currently because their voice is heard and is reflected in the policies of blue states. Conservatives, on the other hand, are completely disenfranchised because the very RINOs who wax poetic about coming together indeed are together as one with the corrupt ruling class and have successfully turned red states into pro-gun and anti-abortion versions of blue states on every other issue that matters. Sure, the political class and the left are content with the current one-sided divorce. It's time we file for a two-way divorce, in which we benefit from that arrangement the same way they do.
When Trump was president, while the left did complain bitterly, the blue-state governments fully channeled their angst, hatred, and energy and moved their states even farther to the left in response to policies they opposed at the federal level. They even actively thwarted legitimate federal enforcement against criminal aliens. States like New York made it a felony to cooperate with the feds to facilitate the deportation of criminal alien sex offenders. At this point, it's quite evident that if either Trump or DeSantis were to become president, the blue states will teach us exactly what national divorce looks like and ratchet up their policies of nullification and interposition by a factor of 100 from what they were in 2017.
Contrast that to red states under Biden. Despite everything we've been through with COVID, we can't even get modest prohibitions on mandates passed in most state legislatures. We can't affirm any tenet of medical freedom, property rights against eminent domain, or barring gender studies in places like Wyoming. Republicans have supermajorities in so many red states larger than even Democrat majorities in blue states, yet you wouldn't know it from the policies. Florida is the only state where there is consistent pushback against the federal government and a desire to orient the government, culture, and spending priorities of the state toward the values of the majority of its citizens. Every other red state remains inexorably clinging to the federal bosom like a nursing infant. Every single governor and legislative leader shouts down any idea of fighting the government's COVID mandates under the fear of losing federal funding. We don't have our versions of Massachusetts and California.
So, you see, indeed, we have a divorce – it's just one-directional. Blue states have established an apparatus to limit their exposure to any conservative policies they don't like. Outside Florida, on the other hand, we have not seen that among red states. Had every Republican governor acted like DeSantis, one of two things would have occurred: Either such a strong, unified opposition would have served as a check on federal power, or it would inevitably have pushed us more toward a mutual national divorce, or at least an amicable separation.
The reality is that you cannot bridge the divide between the competing interests and worldviews without Republicans purposely bridging it by agreeing to one side of it. These establishment Republicans and antiquated conservatives don't want us to accentuate the divide from which we already suffer so that we can attempt to rectify it. They want to continue obfuscating the divide and continue "conservative industry" politics as usual.
You cannot bridge the divide with people who believe government can force you to inject experimental substances into your body but cannot regulate the suctioning of a baby's dismembered head.
You cannot bridge the divide with people who believe murderers should be released from jail but that not wearing a mask is tantamount to murder.
You cannot bridge the divide with people who believe sick patients should not be allowed to use a Nobel Prize-winning drug as last resort on their own dime in a hospital but that Catholic hospitals should be forced to perform castrations on minors.
You cannot bridge the divide with people who believe illegal aliens should have more rights than Americans.
You cannot bridge the divide with people who believe those who viciously knock people out on the subway after their 50th arrest should be set free without posting bail while those without a criminal record who commit trespassing as part of a political crime should be held indefinitely behind bars.
You cannot bridge the divide with people who believe in banning guns for self-defense but who fight for the release of career criminals caught committing violent crimes with guns.
You cannot bridge the divide with people who believe Ukraine is the most important public policy issue of our time but continue ignoring excess deaths.
You cannot bridge the divide with people who believe carbon dioxide is a pollutant and that they can destroy our entire quality of life but also think that an explosion of vinyl chloride is no problem at all – even after residents of East Palestine began experiencing symptoms.
So rather than fighting to the death over the same political assets, why not limit our exposure so that this divide won't matter as much? Sure, we can still have one flag, perhaps share a military and reciprocity with Social Security and other aspects of commerce. But it's time we revert to the 10th Amendment at least as strongly, if not stronger, than our founders envisioned it, so that we limit our shared sphere of operations.
We're not even arguing over custody of the same assets: We don't want the same things.
We want natural fuels like oil and gas, and they want solar, wind, and electric cars.
We want police and Border Patrol, and they want social workers and "public health" fascists.
We want established supplements and broad-spectrum anti-inflammatories, and they want mRNA and masks.
We want to use governmental assets to help Americans, and they want to help everyone in the world but Americans.
So let them keep theirs, which they do anyway … but let us, in our states, keep ours.
If they want to abolish the Border Patrol, the military, and the police, let them live in the part of the country without those institutions and most certainly without the nukes. We will have them.
If they want to give illegal aliens more rights than Americans, take away guns from law-abiding citizens, and refuse to lock up violent criminals, including gun felons, let them live with the consequences, while we use our governments for the few core functions it is supposed to serve.
If they want to crush small businesses with illogical regulations, let them try to start business and attract commerce in their states with those onerous rules but leave us free to govern ourselves elsewhere.
If they believe there is a fundamental right to camp out on public streets, let them live on those streets, but don't come to our states when the going gets rough to transform our paradise into your existing hell.
If they feel they could live without fossil fuels, let them take all the windmills, and we will take the oil and gas.
If they want to ban our lifeblood of freedom and prosperity on lands in our states, should we be hampered by "the Constitution" in producing our own energy after they unconstitutionally shut it down and ban human progress?
Indeed, when thought of properly, a national divorce is not such a crazy idea. In fact, it's the most sensible idea at this juncture in history. We're naturally headed there anyway with the acceleration of domestic interstate migration driven by political and cultural shifts. The only things stopping us from enjoying what we want in red states the way the leftist side is in the blue states are the phony Republicans in red states feigning outrage over this very idea. Like an abused wife, they want to allow the abusive blue husband to extend his officious reach, culture, and influence into our red states. They are therefore offended by the idea of rejecting federal funding … along with its onerous mandates, regulations, and cultural edicts.
But if we are going to dogmatically apply every aspect of the Constitution with intransigent devotion whenever it comes time to interpose against leftists' flagrantly unconstitutional tyranny, then shame on us. What happens when a federal administrative state redefines sexuality, erects a biomedical tyranny and surveillance state, invades the states with cartels, and bans the most effective modes of energy production? Are we going to sit idly and invoke the feds' interstate commerce powers? Hell no!
As Justice Robert Jackson famously observed (Terminiello v. City of Chicago, 1949), "There is danger that, if the court does not temper its doctrinaire logic with a little practical wisdom, it will convert the constitutional Bill of Rights into a suicide pact." Unless we temper our obsession with a system that has been violated a thousand times over again with some practical wisdom, we risk making the Constitution exclusively a tool of tyranny and not of freedom.