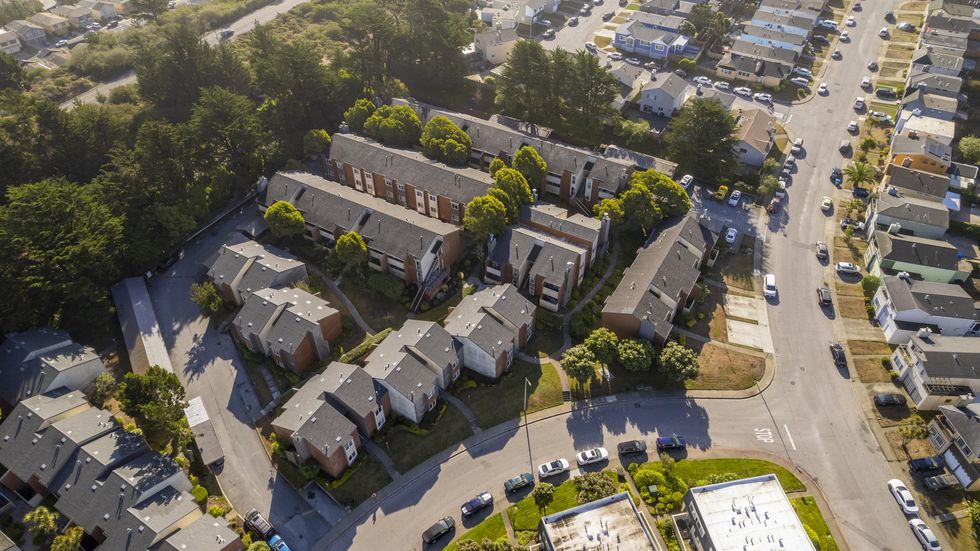 If the red states didn't have enough reason to interpose against federal tyranny, they certainly do now with HUD's new racial gerrymandering scheme for America's neighborhoods.
Earlier this month, Biden's HUD announced the reinstatement of Obama's failed racial gerrymandering tool known as Affirmative Further Fair Housing. The short-lived July 2015 AFFH program was a de facto federal gerrymandering tool used to force local governments to impose low-income housing mandates on areas HUD targets for social engineering. To further the socially engineered outcome without the consent of the local populace, the program funnels funds to left-wing community organizing groups to transfer people from the inner city into suburban neighborhoods, all based on a data tool they would use to override local zoning laws. This is social transformation without representation at its worst.
We thought we defeated this Frankenstein rule after Obama left office, but the Biden administration has now resuscitated it stronger than ever. Under the 284-page proposed rule from HUD, any locality that takes any sort of housing grant program funding must comply with HUD's new rules for "equity." In plain English, that means that HUD can target any conservative county it dislikes and demand a change to the demographic composition by simply waving its magic wand of taxpayer and printed money. Counties would all have to submit annual plans on how to better meet HUD's arbitrary and political standards, all the while enabling any individual or army of Soros organizations to sue the localities in court for not sufficiently complying.
"We are done with communities that do not serve people," Housing Secretary Marcia Fudge told reporters."We are going to hold responsible those that we give resources to. We no longer as a federal government can continue to fail the very people we need to help."
Not surprisingly, a group of left-wing Democrat get-out-the-vote operators immediately hailed the rule as a breakthrough. Groups like the NAACP Legal Defense and Educational Fund, the ACLU, UnidosUS, and the Lawyers' Committee for Civil Rights Under Law, cash-flush organizations that would likely lead the litigation on this issue, heralded the AFFH rule as "an important step toward creating more equitable and affordable housing opportunities and stronger, more viable neighborhoods."
Between the GOP-led House and the red states, now is the time to finally declare war on the gerrymandering of our neighborhoods. And yes, that would require ending the red-state addiction to federal funding.
Every American has the right and opportunity to purchase property, housing, or rentals in any part of the country. However, the federal government has no constitutional power to mandate the breakdown of natural settlement and development for different neighborhoods and counties in order to enrich their favored NGOs. Under the AFFH, HUD unilaterally decides that not enough individuals from a given race or ethnicity live in a particular jurisdiction. Then, in order to leverage the local government to "identify significant determinants that influence or contribute to those issues, and set forth fair housing priorities and goals to address fair housing issues and determinants," HUD threatens to withhold community development block grants.
Further, HUD uses its army of lawyers and groups like the NAACP and ACLU to threaten lawsuits against counties that fail to comply with this scheme. For example, in 2016, Baltimore County was forced by HUD to settle under threat of lawsuit for a $30 million program creating 1,000 new low-income units with very specific criteria. The county was required to provide 2,000 housing vouchers to help families access"higher opportunity neighborhoods" and was forced to ban landlords from denying rent to those without a paycheck to afford the rent.
This is what is coming to every American neighborhood if we don't stop the central planning. You thought you'd be able to escape the rampant crime and prison releases? Think again. They will follow you everywhere.
Under any proposed debt ceiling deal, one of the primary departments to take a cut should be HUD. The federal government should not be involved in something as local as housing, just like it should not be involved in education. In the fiscal year 2023 omnibus, Congress provided HUD with nearly $60 billion in annual discretionary spending, almost half of it going toward the Section 8 housing program. This ridiculous program, akin to Obamacare for housing, often makes it more profitable for owners to bring in riffraff on the taxpayer's dime rather than renting in the free market. Between HUD's stick wielded against denying rent to those who can't pay and its carrot of extra funding for renting to those who serve their ideological and political ends, Section 8 is one of the most powerful social, political, and economic tools of the Left. It's therefore time to take a meat cleaver to HUD altogether.
Moreover, red states must pass laws this legislative session barring all state officials, local officials, and state-funded NGOs from complying with the AFFH rule. If half the country loses its HUD funding, then so be it. Wouldn't red states and counties rather remain free and safe than become a mini-me of high-crime blue America? What is the point of taking money merely in order to invade neighborhoods with crime built on a political agenda hostile to single-family homes?