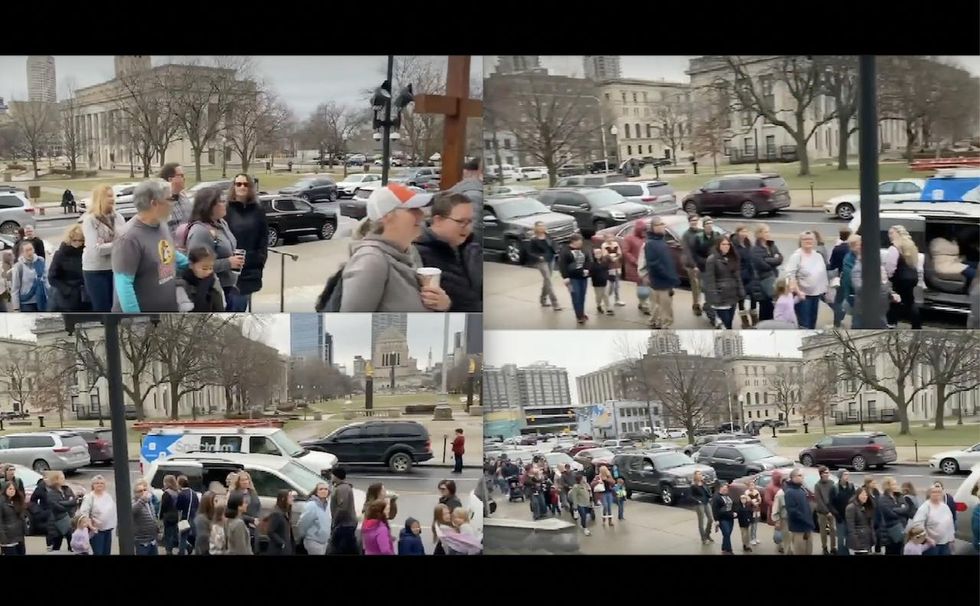 One might reason that a public library would be thrilled by a huge crowd showing for an event at its location, particularly when kids are part of the throng. You're talking about many potential brand-new book borrowers, the possibility of numerous return visits, and more foot traffic — all of which may equal greater interest in the library.
But the Indianapolis Public Library seems none too pleased about an attendance estimate for Kirk Cameron's reading of his God-focused children's book "As I Grow," which took place at there Thursday.
Specifically, the library tweeted Friday that an attendance estimate of 2,500 is inaccurate — and far fewer folks showed up than was noted on social media:
"We are being inaccurately portrayed in news/social after a room rental yesterday," the library tweeted without naming Kirk Cameron or his book. "Our estimated door count during the event is around 750, not 2500. We've had larger events. We turn 150 yrs old in 2023. And our auditorium, which our guests chose not to rent, holds 300, not 2000."
Here's one tweet the library apparently didn't like:
How are folks reacting?
The library's tweet disputing the attendance has been getting a lot of attention, with most commenters wasting no time skewering Cameron and accusing him of lying. However, a handful of folks chastened the library for being petty:
"Does it truly disturb you so much that an event, centered on Christianity, drew a large, predominantly white, audience? How pathetic you must be……." one commenter noted.
"Libraries finally are getting people back in the door, and now they want to rip their tax paying customers who keep the lights [on] and pay their salaries b/c they are conservative," another user said. "You [would] think they'd be thankful, but I guess libraries are only for liberals now. Backwards if you ask me."
"How about thanking them for their patronage and bringing at least 750 parents and children to experience the library?" another commenter wondered.
Anything else?
Cameron — who was scheduled to do another reading Friday afternoon at Scarsdale (New York) Public Library — appeared on Fox News also on Friday to talk about the controversy over his attempts to hold readings of his book at public libraries:
Here are a few other looks at what went down at the Indianapolis Public Library on Thursday — starting with a rendition of "God Bless America":