Appointment backlog means many migrants can remain in country for almost a decade before court date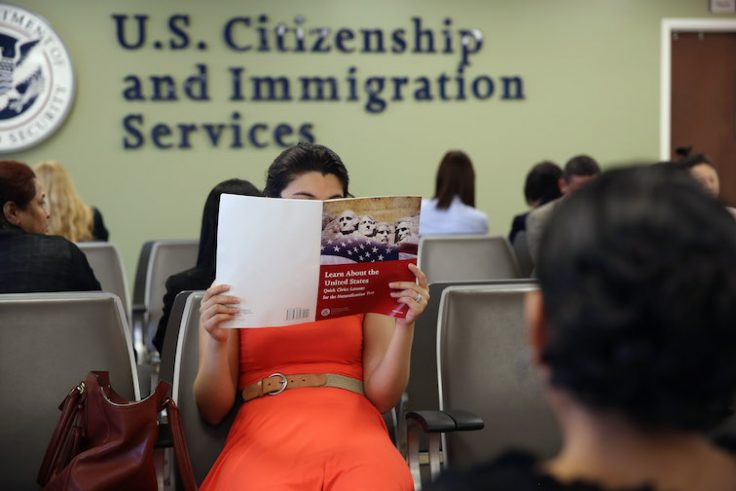 Asylum claim appointments for migrants apprehended at the southern border are booked through 2032 at Immigration and Customs Enforcement offices in New York City, according to an agency report reviewed by the New York Post.
The appointment backlog means many migrants can remain in the United States for almost a decade before they face immigration court to argue their case. The Biden administration released into the United States more than 800,000 non-citizens apprehended at the border between March 2021 and February 2023, according to the report, and New York City was the top destination for the immigrants.
The report comes as an immigration crisis unravels at the United States' northern and southern borders. More than 5.5 million illegal immigrants have crossed the southern border since Biden took office, and more than 1.2 million have evaded law enforcement.
An 846 percent increase in migrants apprehended in New York, New Hampshire, and Vermont pushed Customs and Border Protection to move at least two dozen agents from the southern border to the north. In January 2023, 367 migrants were apprehended, compared with 24 in January 2022.
New York City ICE faces at least 39,216 non-American citizen appointments as of mid-February, the Post reported. It's the most congested jurisdiction in the country. Jacksonville, Fla., and Miramar, Fla., ranked second and third place, respectively, are both booked into 2028.
The Biden administration changed the processing system, adding stress on the New York system, the Post reported:
Historically, migrants who illegally crossed the southern border with asylum claims were issued a Notice to Appear (NTA) in immigration court.
But to cope with a record-breaking wave of new arrivals, the Biden administration in early 2021 added a new step and issued migrants a Notice to Report (NTR) to the ICE office near their final destination to get placed into court proceedings.
Authorities stopped issuing NTRs in late 2021 and imposed the Alternatives to Detention (ATD) "parole" program on most migrants released at the border, who generally submit to GPS tracking or reporting on a smartphone app.