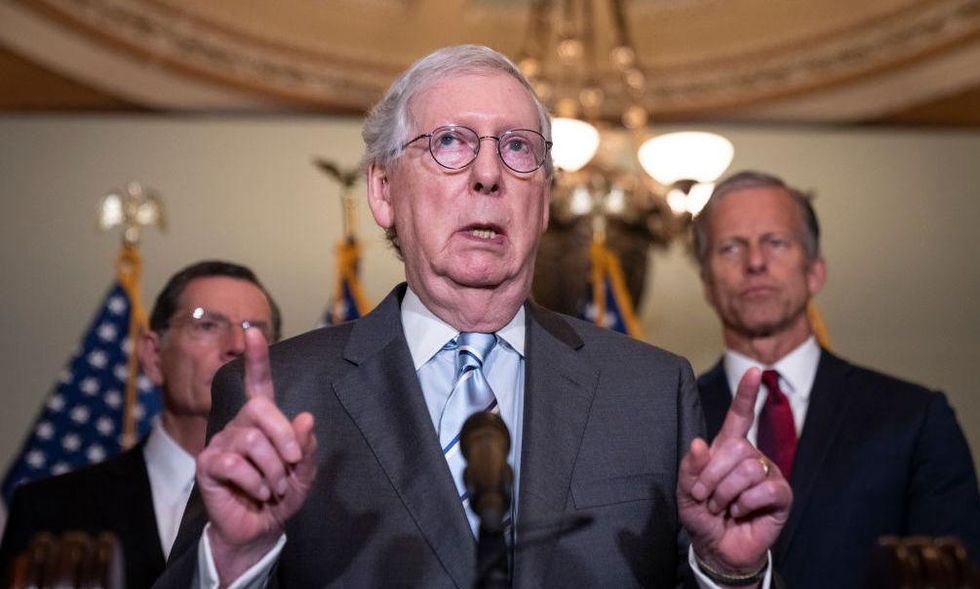 Sen. Mitch McConnell (R) took numerous shots at House Democrats' new leader, Hakeem Jeffries, on Thursday, magnifying the New York Democrat's proclivity for questioning the legitimacy of critical democratic institutions.
Speaking from the Senate floor, McConnell highlighted the irony he sees in Democratic rhetoric about the importance of institutional norms.
"It has been one of the big, unfortunate ironies of the past several years: Many of the same individuals and institutions on the political left who spent the years 2017 through 2020 yelling about the importance of norms and institutions have themselves not hesitated to undermine our institutions when they're unhappy with a given outcome," McConnell began.
Then he zeroed in on Jeffries.
"For example, the newly elected incoming leader of the House Democrats is a past election denier who baselessly said the 2016 election was 'illegitimate' and suggested that we had a 'fake' president," McConnell noted.
"He has also mounted reckless attacks on our independent judiciary and said that justices he didn't like have 'zero legitimacy,'" he added.
What is McConnell referring to?
Jeffries repeatedly questioned the legitimacy of Donald Trump's presidency, and subsequently, he has questioned the legitimacy of the Supreme Court.
Here are a few examples from Jeffries' official congressional Twitter account:
On Wednesday, House Democrats elected Jeffries as their new leader by unanimous vote. Jeffries is the first black American to lead a major political party in Congress.
"Un-American" Attacks on Free Speech and the Rule of Lawwww.youtube.com