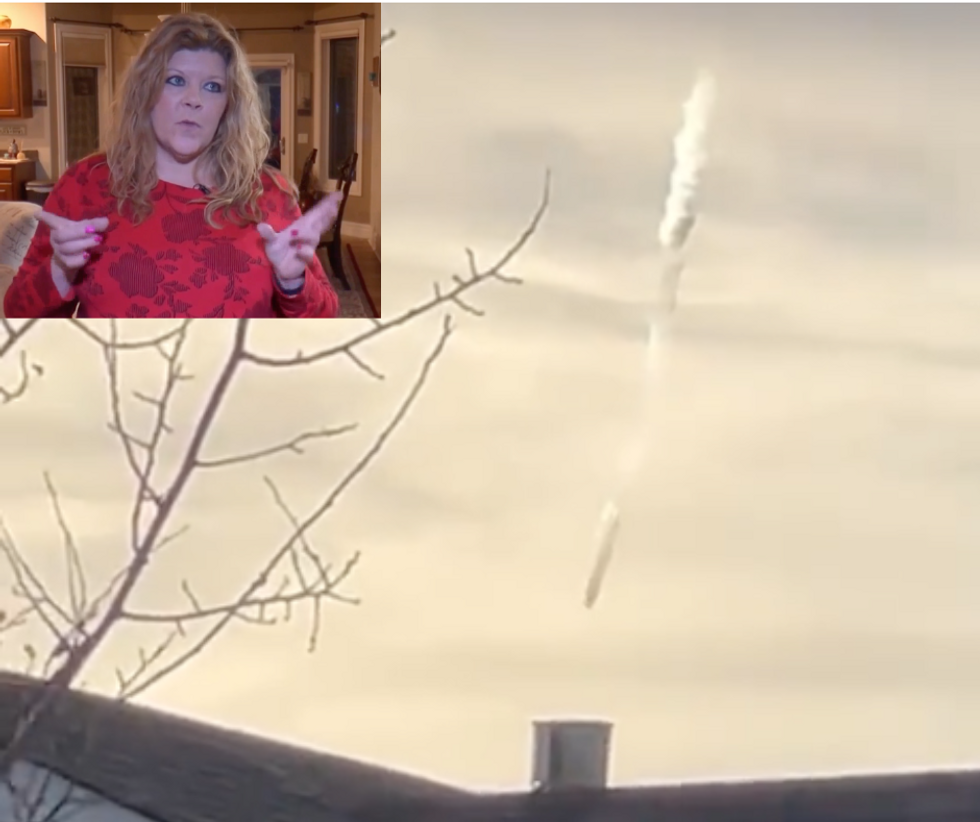 Later in the evening, the City of Billings reported on its Twitter account that they confirmed with Montana's Disaster Emergency Services and Gov. Gianforte that there were no explosions "in, around, or across" the state. In addition, the City of Billings said the video "can not be substantiated."
The "explosion" video, posted by an account called @MMtTreasures, appeared to show a vertical pillar of white smoke or vapor, a flash of light, and something falling from the sky. In the text accompanying the video, @MMtTreasures also describes seeing a jet and witnessing what she described as an "explosion."
"Ok, so here's what I just caught on video I [sic] few minutes ago out my window. I saw a jet go by so fast and then explosion in the sky. Holy crap! Billings MT."
Dolly Moore, the woman who posted the video, described her experience in an interview with MTN News on Friday night, which was shared in a report by KRTV.
"All I could think was, oh my gosh, this is happening again from two nights ago with the spy balloon over Billings," Moore said in the interview.
By 9:45 p.m. on Friday night, Yellowstone County Sheriff Mike Linder, had made contact with Moore.
Linder said at that time that they believed the video was legitimate, according to a report by NBC affiliate KULR. The sheriff also reportedly added it was difficult to tell exactly what the video showed and that there was no evidence of an aircraft going down nor any evidence of an actual explosion over Billings.
Senator Steve Daines (R-Mont.) also says there has been no confirmation of an explosion over the state or the city of Billings, per KULR's reporting on Saturday.
Rep. Matt Rosendale (R-Mont.), responded to the City of Billings tweet, saying he was "still following all these events closely and will keep Montanans informed as any new information becomes available."
Gianforte did not address the video in an interview on Fox News Channel's Fox and Friends Saturday morning.
"Honestly, if this had been up to Montanans, we would have taken it out of the air the moment it came into our sovereign airspace," Gianforte said, referencing the balloon seen in the area long before the unsubstantiated "explosion" video posted Friday night.
Gianforte also noted the Biden administration's seeming failure to take action on the Chinese spy balloon, "endangers the American people and emboldens our enemies."
Like Blaze News? Bypass the censors, sign up for our newsletters, and get stories like this direct to your inbox. Sign up here!