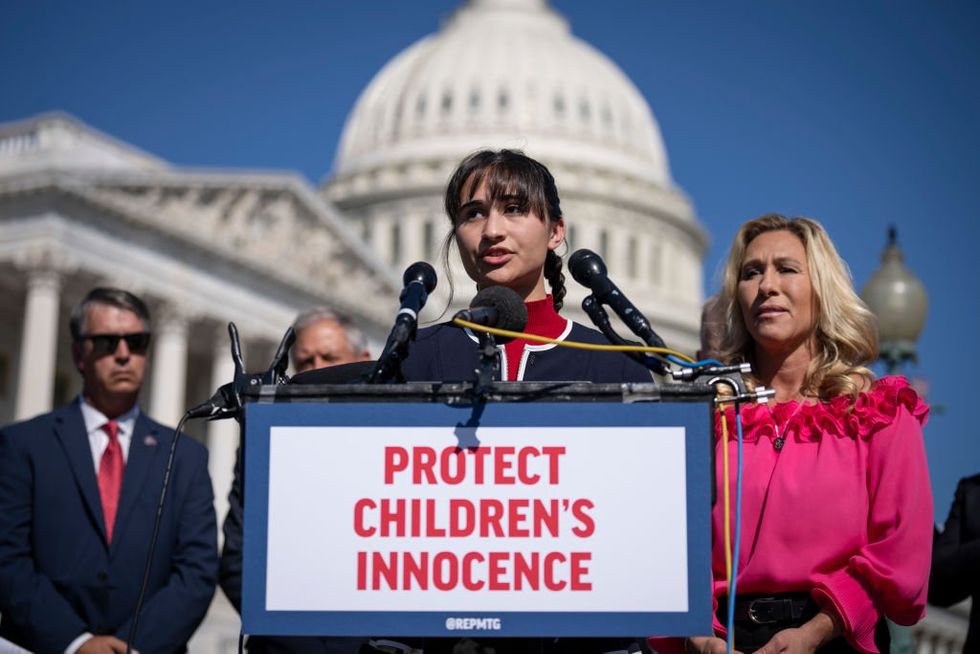 Chloe Cole, 18, is suing the hospitals and physicians who 'coerced' her to transition from a girl to a boy in the name of profit, Cole's attorneys announced in a press release Thursday obtained by TheBlaze.
"I am going forward in taking legal action because every second that goes by, more blood is spilled by the same individuals and medical centers that destroyed my body and childhood," Cole said in the statement.
"After we launched my lawsuit last year, there has been an explosion of both detransitioners and their lawsuits all over the country. Unfortunately, I am no longer alone in my pain and suffering," Cole also said.
Detransitioners are people who underwent chemical and/or surgical transition from one gender to the other, later returning to embracing their original, biological gender. Cole is among them.
Cole, a biological female suffering from gender dysphoria, underwent surgical and chemical gender transitioning procedures between the ages of 13-16.
Cole's Center for American Liberty attorneys say doctors lied to Cole and her parents in a number of ways. Those lies included saying Cole's gender dysphoria would never resolve itself and saying Cole was at high risk for suicide unless she was socially and medically transitioned.
Those lies amount to fraud, according to Cole's attorneys. As a result, the young woman was subjected to a "lifetime of irreversible physical and psychological damage."
Cole's victimization and abuse by medical professionals was profit-driven, according to attorney Charles LiMandri. Their "fraudulent and coercive actions" resulted in "excruciating pain and suffering, permanent disfigurement, loss of enjoyment of life, and extreme emotional distress," LiMandri also said.
In addition to puberty blockers and off-label cross-sex hormone "treatment," Cole's doctors removed her breasts, performing a radical, double mastectomy.
"Chloe's family sought medical treatment for her at Kaiser. Her physicians and other medical professionals violated the first norm of the profession, the Hippocratic Oath, when, instead of caring for her and providing medically competent diagnoses and treatment, they permanently disfigured her for profit," attorney Harmeet Dhillon said in the statement.
"What happened to Chloe at Kaiser should never happen to any child in America, and the Center for American Liberty is committed to protecting children like Chloe," Dhillon added.
Dhillon Law Group and LiMandri & Jonna LLP, in conjunction with the Center for American Liberty have filed a lawsuit against the Permanente Medical Group, Kaiser Foundation Health Plan & Kaiser Foundation Hospitals who performed, supervised, and/or advised transgender hormone therapy and surgical intervention for Cole, now 18, when Cole was a minor.
Like Blaze News? Bypass the censors, sign up for our newsletters, and get stories like this direct to your inbox. Sign up here!