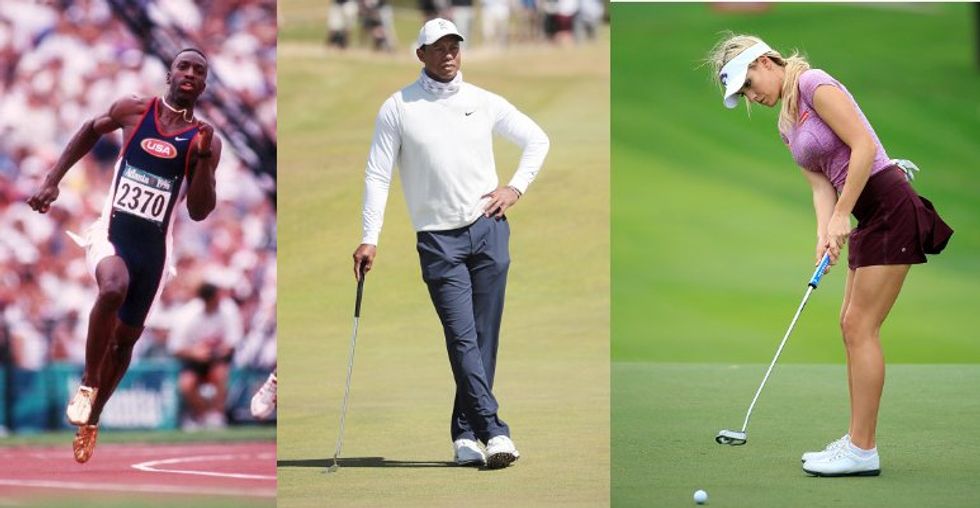 Legendary golfer Tiger Woods is being raked over the coals for pulling off a tampon prank on a fellow golfer. A women's group and Olympian Michael Johnson slammed Woods for the friendly prank, but golfer Paige Spiranac defended the 15-time major champion against cancel culture.
During the first round of the Genesis Invitational on Thursday, Woods handed fellow golfer Justin Thomas a tampon. After Woods gave Thomas the tampon, they embraced and laughed about the joke as they walked off the tee.
Woods apologized for the prank after it went viral online.
"It was supposed to be all fun and games and obviously it hasn't turned out that way," Woods told reporters on Friday.
"If I offended anybody, it was not the case, it was just friends having fun," Woods said. "As I said, if I offended anybody in any way, shape or form, I'm sorry. It was not intended to be that way. It was just we play pranks on one another all the time, and virally, I think this did not come across that way, but between us, it was – it's different."
Despite the apology, Woods was lambasted by some for the prank between friends.
Kara Sugar, the CEO of the Women's Global Empowerment Fund, told TMZ that the prank was misogynistic, tone-deaf, and disrespectful to women and girls all over the world.
Sugar asked Woods if he believed that "periods are embarrassing or shameful or a sign of weakness?"
Olympian Michael Johnson bashed Woods for his apology.
"Apology starting with 'If I offended anyone' is no apology. But this is Tiger. Never been a leader and he's Teflon," Johnson wrote on Twitter. "Still heralded after all the mistakes so he's learned nothing. Media focus always on miraculous recovery. Never why the need for recovery."
Golfer Paige Spiranac came to the defense of Tiger.
"If anyone tries to cancel Tiger over this we riot. It's funny," Spiranac tweeted.
"Instead of women being outraged by Tiger and the tampon, I would love for them to actually provide ideas to help," she added. "For example I would have Tampex team up with the PGA tour to run a campaign where they provide free feminine products at golf courses. Most don't actually have them and during long rounds it can be a problem for us."
Spiranac added, "It's interesting to see women outraged by Tiger slipping JT a tampon after out driving him but those same women will quickly tear me down for how I've decided to build my business. You can't pick and choose when to be a feminist."
Like Blaze News? Bypass the censors, sign up for our newsletters, and get stories like this direct to your inbox. Sign up!