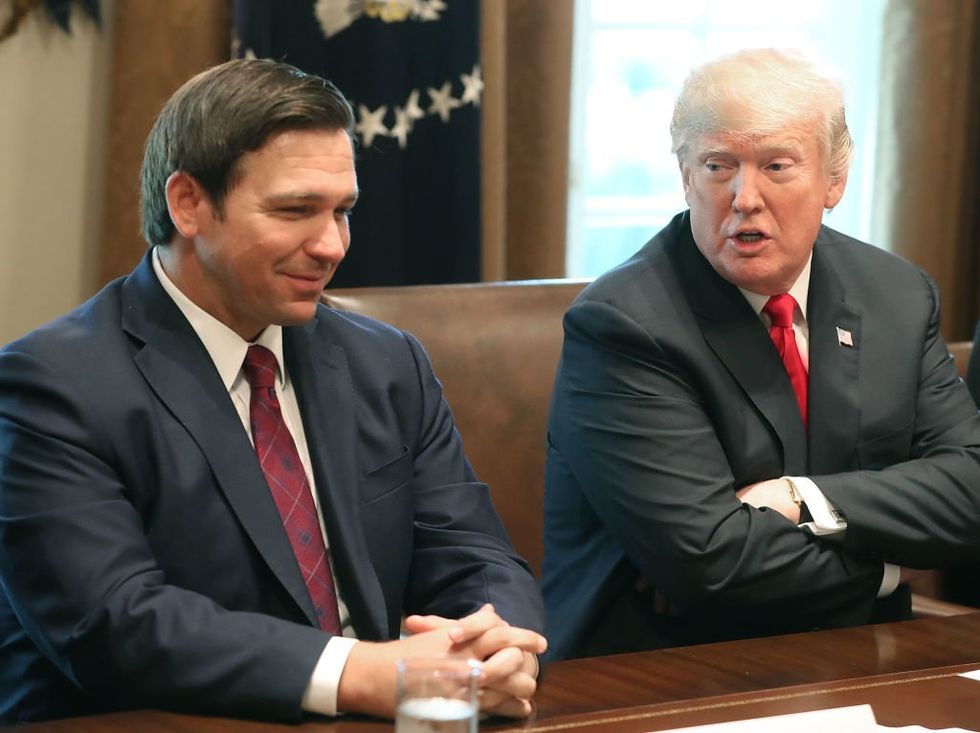 As the 2024 presidential election cycle gets underway, several Republican figures have responded to a questionnaire from Tucker Carlson on the issue of Ukraine.
Since last year, Ukrainians have been fighting to beat back a Russian invasion, and the U.S. has approved billions of dollars in aid for the embattled nation.
Former President Donald Trump, who has already announced a 2024 White House bid, and Florida Gov. Ron DeSantis, who is widely viewed as someone who might announce a presidential run in the coming months, were among the Republicans who responded to the Ukraine-related questionnaire sent out by Tucker Carlson.
Trump asserted that Russia would not have attacked Ukraine if he were still president.
"Start by telling Europe that they must pay at least equal to what the U.S. is paying to help Ukraine. They must also pay us, retroactively, the difference," Trump said. "Next, tell Ukraine that there will be little more money coming from us, UNLESS RUSSIA CONTINUES TO PROSECUTE THE WAR. The President must meet with each side, then both sides together, and quickly work out a deal."
When asked if opposing Russia in Ukraine is a critical U.S. national strategic interest, Trump said, "No, but it is for Europe. But not for the United States. That is why Europe should be paying far more than we are, or equal."
DeSantis indicated that becoming more involved in the conflict is not in America's interest.
"While the U.S. has many vital national interests — securing our borders, addressing the crisis of readiness within our military, achieving energy security and independence, and checking the economic, cultural, and military power of the Chinese Communist Party — becoming further entangled in a territorial dispute between Ukraine and Russia is not one of them," DeSantis said.
"The Biden administration's virtual 'blank check' funding of this conflict for 'as long as it takes,' without any defined objectives or accountability, distracts from our country's most pressing challenges," the governor declared. "The U.S. should not provide assistance that could require the deployment of American troops or enable Ukraine to engage in offensive operations beyond its borders. F-16s and long-range missiles should therefore be off the table. These moves would risk explicitly drawing the United States into the conflict and drawing us closer to a hot war between the world's two largest nuclear powers. That risk is unacceptable."
"We cannot prioritize intervention in an escalating foreign war over the defense of our own homeland, especially as tens of thousands of Americans are dying every year from narcotics smuggled across our open border and our weapons arsenals critical for our own security are rapidly being depleted," DeSantis said.
Former Vice President Mike Pence, who has indicated that he is considering a presidential bid, claimed that if Russian President Vladimir Putin is not stopped in Ukraine, Russia will advance toward NATO territory and the U.S. will be drawn into war.
"This is not America's war, but if Putin is not stopped and the sovereign nation of Ukraine is not restored quickly, he will continue to move toward our NATO allies, and America would then be called upon to send our own," Pence said. "As a fiscal conservative, I do not believe in sending blank checks and want oversight of government spending at home and abroad. But withholding or reducing support will have consequences: If Putin is not stopped now and he moves into NATO-controlled territory, the cost will be far greater."
Vivek Ramaswamy, who announced a White House bid last month, noted, "Generally speaking, I don't think it's wise to telegraph our ends, and I believe the facts in January 2025 may be very different from where they are today. But let me be clear: if I were president right now, I would limit any further funding or support to Ukraine."
While several other GOP figures issued a response to Carlson's questionnaire, including South Dakota Gov. Kristi Noem, Texas Gov. Greg Abbott, Sen. Tim Scott of South Carolina, former New Jersey Gov. Chris Christie, a number of other figures did not provide a response.
Like Blaze News? Bypass the censors, sign up for our newsletters, and get stories like this direct to your inbox. Sign up here!