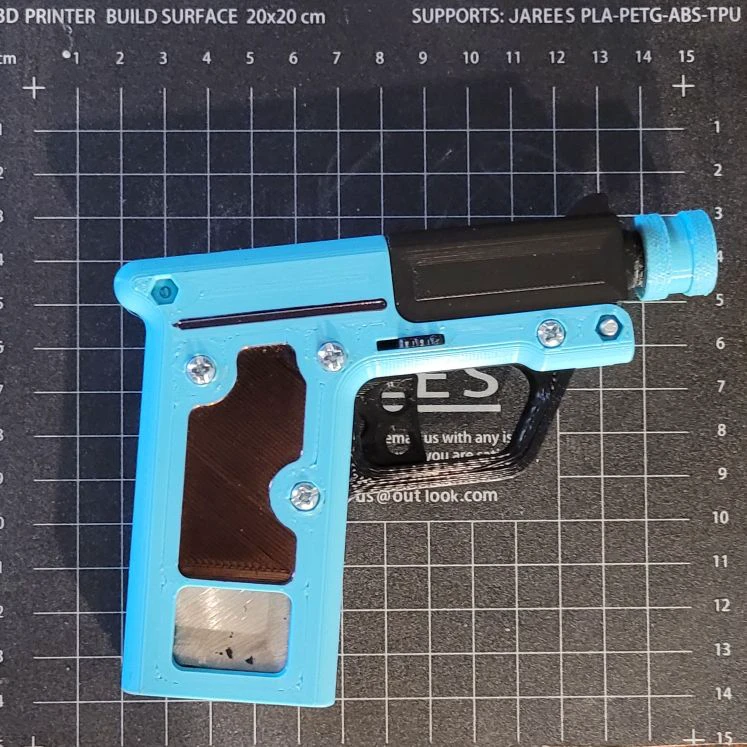 Black Lotus Coalition
Presents
The Cabfare V1.3
Now UFA Compliant
PURPOSE: In the USA, the Undetectable Firearms Act (UFA) requires all firearms to be at least as detectable as an security exemplar Derringer containing 3.7 oz (105 g) of metal content. See more here: https://en.wikipedia.org/wiki/Undetectable_Firearms_Act
UFA Compliant Version Dev Team / thanks to
-punkjuggle for designing the Cabfare
-MadMax for actually doing CAD
-3DG for testing
-trollwerks for insisting on a UFA variant, concept development, pretending to be cool, and offering parts kits
-Moderator Gage for coordinating the UFA Cabfare development
-TooAceForThisShit for providing emotional support
This Varant of the Cabfare uses a grip weight measuring 35mm x 35mmx 12.7 mm (1/2 in) with 6mm radiused corners that weights approximately 4oz. A .DXF of this weight can be found in the files and should be cut of half inch mild steel or stainless steel (California, others?) The frame has been modified to incorporate the weight and to provide a window for those who choose or need to engrave the steel weight.
Print orientations, parts list besides weight, assembly instructions, material choice and print setting can all be found in the document labeled Assembly & Print Orientation.
CONVENIENCE / HARDWARE KITS: As of this release, https://www.trollwerks2a.com sells "print & play" hardware kits for both the short- and long-barreled variants that include a ~4oz grip weight for UFA compliance as well as rifled & chambered barrel liners, screws, nuts, and springs. Just add plastic!