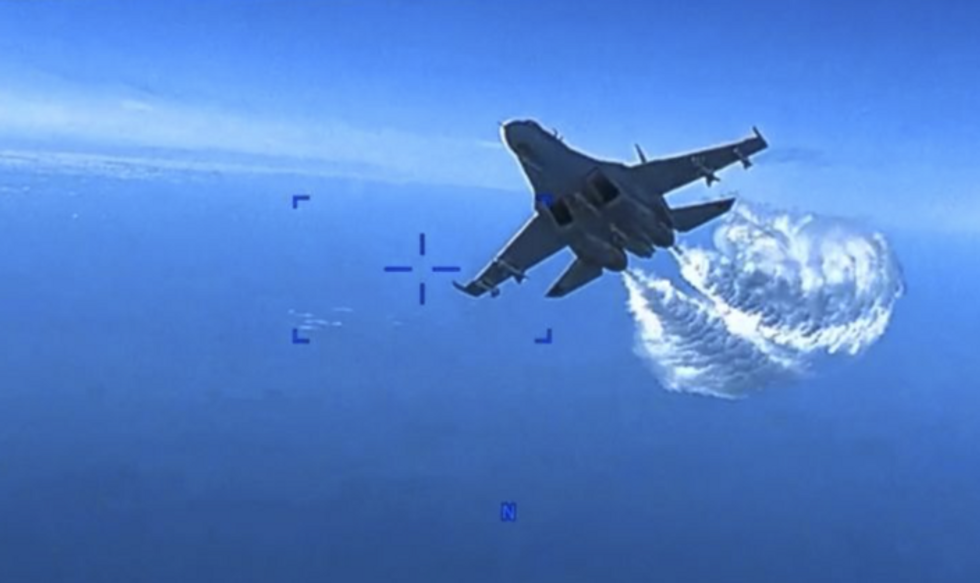 The U.S. military released video on Thursday of a collision between an American drone and a Russian fighter jet in international airspace over the Black Sea.
According to U.S. European Command, a Russian Su-27 aircraft conducted "an unsafe/unprofessional intercept" of a U.S. Air Force MQ-9 Reaper drone over the Black Sea on March 14.
The newly declassified video of the collision shows the Russian Su-27 jet striking the U.S. reconnaissance drone, causing damage to the aircraft's propeller. The Russian Su-27 dumped fuel as it passed over the MQ-9 drone. Video transmission from the surveillance UAV was temporarily lost during the encounter.
The U.S. military was forced to down the unmanned drone into the international waters of the Black Sea.
U.S. Defense Secretary Lloyd Austin said during a press conference on Wednesday, "Two Russian jets dumped fuel on an unmanned U.S. MQ-9 aircraft conducting routine operations in international airspace. And one Russian jet intercepted and hit our MQ-9 aircraft, resulting in a crash."
James B. Hecker, commander, U.S. Air Forces Europe and Air Forces Africa, said in a statement, "Several times before the collision, the Su-27s dumped fuel on, and flew in front of the MQ-9 in a reckless, environmentally unsound and unprofessional manner. This incident demonstrates a lack of competence in addition to being unsafe and unprofessional."
"This incident follows a pattern of dangerous actions by Russian pilots while interacting with U.S. and allied aircraft over international airspace, including over the Black Sea," Heckler added. "These aggressive actions by Russian aircrew are dangerous and could lead to miscalculation and unintended escalation."
Russia blamed the United States for the aerial encounter.
CBS News reported, "Russia's Defense Ministry said Shoigu had told Austin that the collision was the result of 'increased [U.S.] intelligence activities against the interests of the Russian Federation' and 'non-compliance with the restricted flight zone' declared by Moscow amid its ongoing war in Ukraine."
The Russian Defense Ministry said it would react "proportionately" to any future U.S. "provocations" in the region.
"Flights of American strategic unmanned aerial vehicles off the coast of Crimea are provocative in nature, which creates pre-conditions for an escalation of the situation in the Black Sea zone," the Russian Defense Ministry stated. "Russia is not interested in such a development of events, but it will continue to respond proportionately to all provocations."
Austin declared, "The United States will continue to fly and to operate wherever international law allows, and it is incumbent upon Russia to operate its military aircraft in a safe and professional manner."
Three defense officials and one Biden administration official reportedly told NBC News that Russia is actively searching for the downed U.S. drone with ships and aircraft.
Gen. Mark Milley, the chairman of the Joint Chiefs of Staff, said at a news conference Wednesday that the MQ-9 drone is likely 4,000-5,000 feet under the Black Sea, and recovery will be "very difficult."
Milley said the U.S. doesn't have any ships in the area of the crash, but does "have a lot of allies and friends in the area" to facilitate a recovery operation.
Milley explained, "We know that the intercept was intentional. We know that the aggressive behavior was intentional. We also know it was very unprofessional and very unsafe."
"As far as an act of war goes, I'm not gonna go there. Incidents happen," Miley continued. "And, clearly, we do not seek armed conflict with Russia. And, I believe that at this point, we should investigate this incident and move on from there, but we will continue to exercise our rights in international airspace."
US Air Force MQ 9 camera footage: Russian Su 27 Black Sea interceptwww.youtube.com
Like Blaze News? Bypass the censors, sign up for our newsletters, and get stories like this direct to your inbox. Sign up here!